TVs The Governess from the quiz show The Chase, Anne Hegarty, has spoken of her autism this week on the show I'm a Celebrity, Get Me Out Of Here. The response has been great.
Immediately after Anne spoke the National Autistic Society website went down, due to heavy internet traffic. The response in Twitter, so often a forum for hate, has also been mostly positive also.
Putting an autistic person on a show like I'm A Celebrity could have been car crash television, but instead has been heartwarming as the other contestants have moved round to support Anne following her and OCD contestant Rita Simons opened up to each other about their conditions.
The jungle appearance has led to this letter to Anne being read on Wednesday morning TV.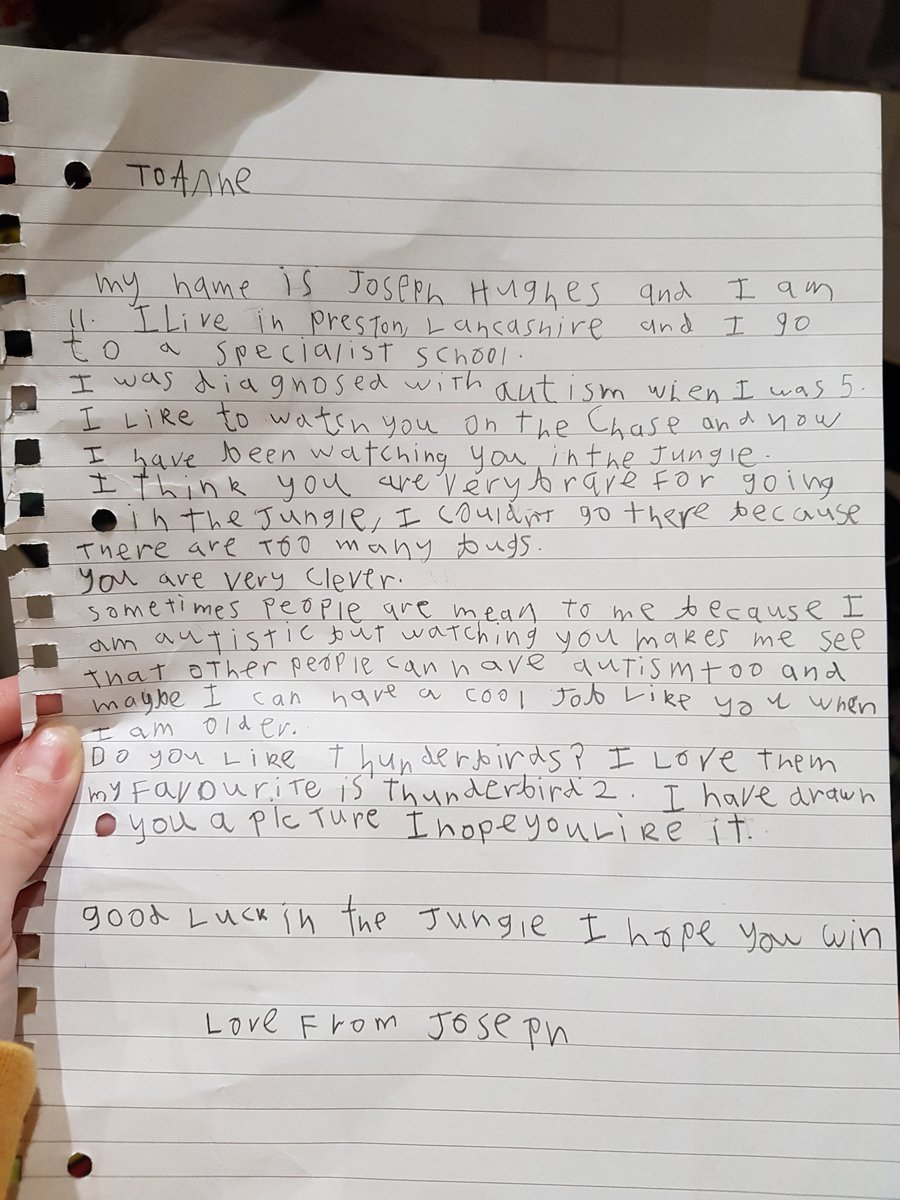 It reads:
To Anne

my name is Joseph Hughes and I am 11. I live in Preston Lancashire and I go to a Specialist school
I was diagnosed with autism when I was 5
I like to watch you on the chase and now I am watching you in the Jungle
I think you are very brave for going in the Jungle, I couldnt go there because there are too many bugs
You are very clever.
sometimes people are mean to me because I an autistic but watching you makes me see that other people can have autism too and maybe I can have a cool job like you when I am older.
Do you like Thunderbirds? I love them my favourite is Thunderbird 2. I have drawn you a picture I hope you like it

good luck with the Jungle I hope you win

Love from Joseph
I am pleased with the positive coverage autism is having in the media. One quote that has come up is from an interview with Anne, where she said: "People say to me, 'I understand you suffer from Asperger's' or 'You suffer from autism', and I'm like, 'No, I have Asperger's, I suffer from idiots."
Thank you Anne Hegerty for your contribution to understanding our condition.