Do not be afraid
Christ the King, Battyeford, Sunday 1st July 2018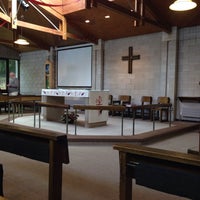 Not my usual church.
This is my Dads church, although it was my church between 1974 to 1978 when I lived with my parents. I have even been on this church's PCC.
I spent the day by taking the bus from Huddersfield, which conveniently arrives in time for the service, Dad and my brother Phillip were already there, them lunch at the Woolpack at Whitley Lower before  going back to Dad's and watching the Austrian Grand Prix followed by what was left of the World Cup match between Spain and Russia – Russia progressed to the quarter finals on penalties.
The service is what I blog about on Mondays, so here goes:
I was welcomed at the door and shown where Dad and Phillip were sitting, which was Dad's usual pew. I am recognised because I am an infrequent visitor, though unfortunately not in the last 6 months except for a funeral.
The sermon pulled together two themes from the day's readings. That giving to help others (1 Corinthians) and healing people (Mark's Gospel) are part of the same thing, God caring for us. I had never noticed that before. Also what stood out to me were te word's of Jesus to Jairus, "Do not be afraid, only believe."
Also the end of the service: The Sunday school children, as the Gospel had taken place on a walk, had had their teaching whilst out on a walk, the weather being hot and sunny.
The after service cup of tea wasn't too weak either.