The BBC, Songs of Praise, autism and why I was upset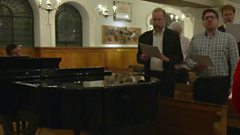 I have autism, I am a Christian, so I watched the Songs of Praise program last Sunday 9th September. This programme was made for me, right? Wrong. I had a meltdown, and like the priest with Asperger's Syndrome interviewed I get loud when I meltdown, followed by getting unbelievable tired. Then when I tried to write a complaint by email to the BBC I had another meltdown.
I expected to see Ann Memmott on the program. Ann is autistic and wrote a paper on autism for the Diocese of Oxford which I have recommended to our church. I was surprised that the expert on autism and the church was absent from the programme.
However, she has written a thread about it on Twitter. Please read it, "
They were inconsistent. They used the term people with autism throughout and showed a choir of autistic adults who had called themselves the Autistic Adults Choir (most autistic people prefer the word autism to come first).
-oOo-
It is now Tuesday. Since I wrote the words above Ann has been active on Twitter again as she had criticism on the Twitter thread linked above. "Why it's not OK to park an autistic person next to you, as a parent, and then do all the communicating." Please read this thread too.